The blood you donate gives someone another chance at life. one day that someone may be a close relative, a friend, a loved one - even you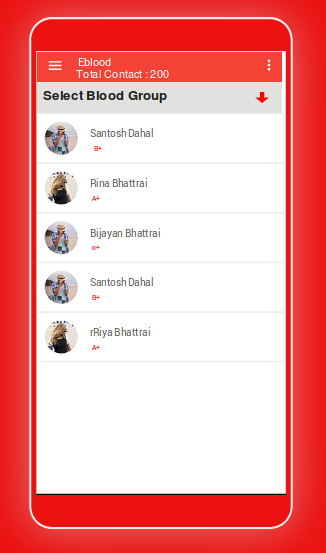 Blood in Emergency
Blood is the essence of life. To give selflessly can make you feel more connected to your community and to the people around you. It's a fulfilling, powerful and enriching experience to know that your donation could save lives.
Unfortunately according to some estimates, fewer than 5% of people who are eligible to donate blood actually do. The Blood Community app will make it very easy for you to donate Blood to someone who needs it or request Blood when needed.
The first app of its kind through which you can easily arrange blood in no time. This app contains information about people of all blood groups within your Contact List. You will be able to contact users through SMS or Call them when you are in need of blood.
# Technology Used
Laravel , Vue js ,kotlin,Android
# Feature
# 1)No Privacy Compromised :
We do not compromise any one detail . Through mobile application user can only view blood group of contact list and only user who give permission to donate blood are listed on line . We keep record of every people who access and search blood.
# 2)Blood in emergency :
Don't bother to search blood in emergency in blood bank , Just download our app find Blood Match in your Contact List . You can also search blood in our website through location
# 3)User Registration:
We have implemented powerful user management system which can track user health and do fraud minimization
# 4)Speed Search :
We provide search result with in a minute and mobile application can synchronize with in a minute
# 5)User Blood Edit :
Any registration user can edit blood group of any one within their contact list
# 6)Totally Free :
Don't worry , it's totally free.